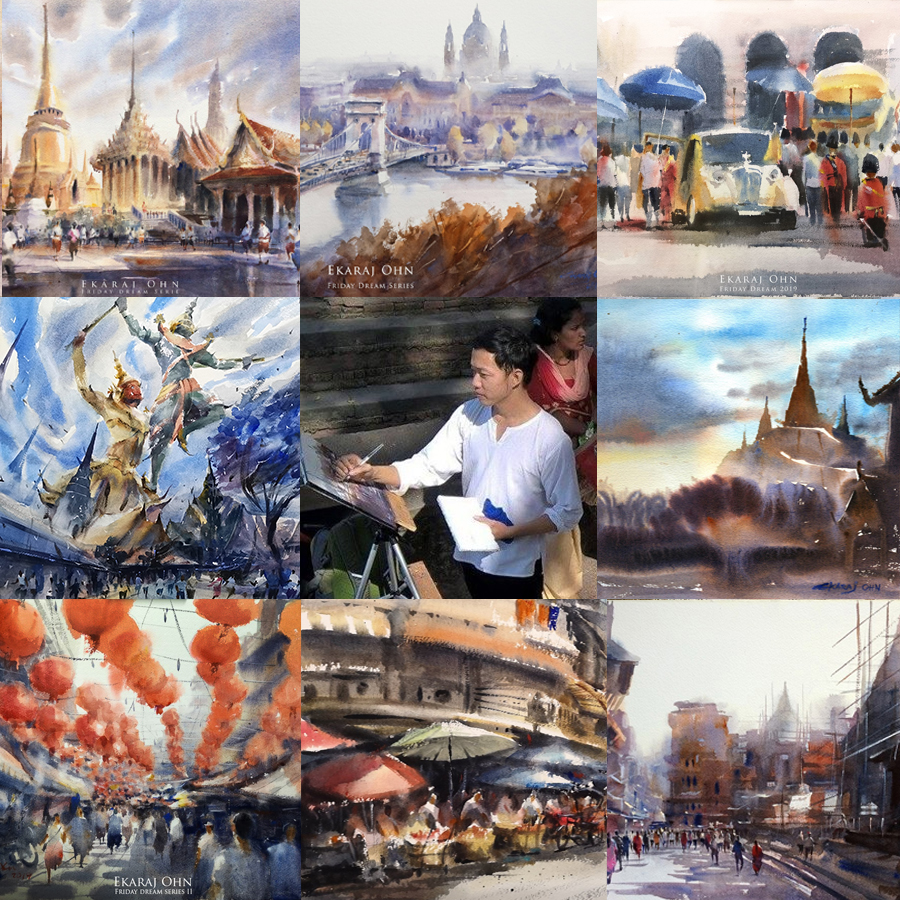 My name is Ekaraj Worasamutprakarn (Ohn) or just Ekaraj Ohn
I'm an Asst.Prof. in Fine Art who love both traditional watercolor medium and also digital painting.
I'm currently teaching in Department of Animation and Digitalmedia,
BSRU University, Bangkok, Thailand.
My favorite subject of watercolor painting is landscape because I love traveling and always exciting to see the different location from my home in Bangkok. I always bring my painting gear every where I go and have on-location paintings. But in the inconvenience situation, I just use my phone to capture the impressive places for painting in my studio.
Solo Exhibition
2018, Hungary, "Friday dream", Watercolor Solo Exhibition.
2015, Hungary, Solo Exhibition: "Himmapan Tales" Concept Illustration-Digital painting.
Group Exhibition:
o 2016, Vietnam, "Journey to Hue", Watercolor.
o 2016, Nepal, "Parallel world", International Watercolor Society exhibition.
o 2017, Vietnam, "Remembrance of Nepal", International Watercolor Society exhibition.
o 2018, Pakistan, "Pearls of Peace" 2nd Malaysia International watercolor biennale.
o 2018, Italy ,"Fabriano in Aquarello" International Watercolor exhibition.
o 2018, Malaysia, "1st Malaysia International watercolor biennale"
2017, Nanyang Polytechnic, Singapore, Speaker in International Animation Challenge in topic "Improve your scene design".
2018, Silpakorn University, Thailand, "Boragon, Character Design", Publication on The International Creative Art Disseminating.
2019, RMUTTR, "Chinese newyear painting", Thailand Art & Design Exhibition